Instagram Stories are quickly becoming an essential aspect of influencer marketing. You probably have heard or used Snapchat Stories years prior to Instagram Stories. Yes, the two features are very similar. This is because Instagram copied it.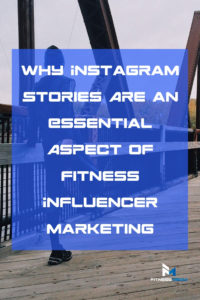 Despite that fact, Instagram Stories has spread like a wildfire after it was launched in 2016 – the platform now boasts 300 million active users. This is primarily because users can use the feature to seize moments and create a more meaningful story than photos.
Yet, unlike photos, Stories can disappear after 24 hours.  While you may think that this an irrelevant feature, Instagram Stories are becoming more and more popular. In fact, a lot of fitness influencer marketing campaigns are incorporating it into their strategies to improve their engagement, visibility and content.
If you are wondering how Instagram Stories can be beneficial to your fitness brand, read on.
Delivers more impact
Stories can be seen above the feed for technically a day. Strange as it may seem, Stories actually have better impressions than regular posts. Why is that? Likes, comments and other buttons you see around the screen while viewing a post can be a distraction. Instead of focusing on the post alone, you are tempted to read through the comments or interact with other followers. This is not the case for Instagram Stories. As soon as you click on a story, you'll immediately go into full-screen mode and view the story without any interruptions since comments and reactions don't appear below a story.
When running a fitness influencer marketing campaign, make sure to post engaging stories about your brand to grab the attention of your followers. Since Stories automatically move to the next one, your followers can see all your stories even if they did not intentionally choose to do so. Before they know it, they're already 10 stories in!
Increases visibility
If you aren't already using Stories, this reason should be enough to convince you. Publishing a story regularly helps you stay on top of your followers' feeds and gives you more exposure per day. Similar to the feed, Stories are ordered based on which content a user will care about the most. If Instagram doesn't think your content is interesting, it will appear farther down in a list. But the more your followers interact with your stories, the more chances your stories will appear first on their list.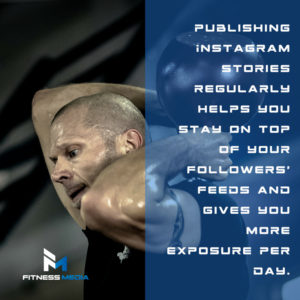 That said, it is essential that you publish captivating stories that your customers will latch onto. For example, you can record a short ten-second video of yourself preparing your post workout meal. Posting funny fitness memes is also a good way to entertain your followers. By doing this often, your followers will look forward to your next stories and view them as they appear.
Offers real-time marketing
Since Stories can only remain for as long as 24 hours, fitness brands can use that to their advantage when promoting a product or an event. The 24-hour timeframe is the perfect way to create a buzz and urge your followers to make a decision quickly. Posting live during an event or sale can encourage viewers to attend or experience the fun if they aren't there.
Another good thing about Instagram Stories is that even if you post lots of promotional stuff daily, you won't be annoying your followers as Stories don't show on the main news feed. No matter how many stories you post, you will never clutter your audience's feed.
Helps you be more creative
By using Instagram Stories, you have the opportunity to get creative and publish whatever types of content your target audience will find interesting. Stories allow you to publish your content in a playful and lighthearted manner through the use of filters, stickers, text and colors. You can also use these elements to leverage your branding and produce more eye-catching content.
From photos of your new gym attire to motivational quotes and video clips of your workout routine, you can produce all sorts of content in a very fun way by adding in emojis, branding colors, or drawings related to your business name or mission.
Provides a better view of your brand
You probably already know that posting compelling content regularly is a vital part of any fitness influencer marketing campaign. This extends true in Instagram Stories. Publishing at least four stories per day gives your followers a better view of your brand as a whole. Try showing some behind-the-scenes videos so your viewers can get a glimpse of your products and personality. It's also a good way to give your audience a sneak peek of your new offerings.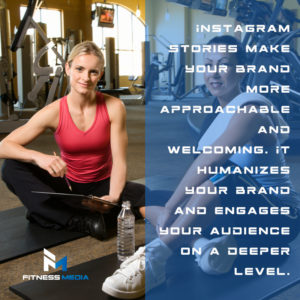 Revealing how your ordinary day looks like is also a good idea. Show people how you start your day or what you do outside the gym. Content like this works really well and captures the trust of your audience. The more you humanize your stories, the more your audience can feel connected to your brand.
Instagram Stories make your brand more approachable and welcoming. It humanizes your brand and engages your audience on a deeper level. However, before you publish your Stories as part of your fitness influencer marketing strategy, it's worth doing your homework first. Find out when your followers are most responsive. This way, you can make the most out of the 24-hour timeframe.
If you're interested in seeing what Fitness Media can do for your fitness brand through Instagram, get in touch.